America and the Russian Federation seek to Reset Positive Relations under Donald Trump
Galina Zobova, Chika Mori, and Lee Jay Walker
Modern Tokyo Times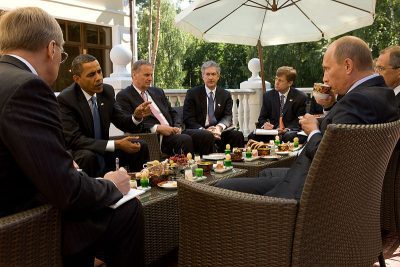 President Vladimir Putin of the Russian Federation and the newly President-elect Donald Trump of America held a warmly received conversation by telephone. It is known that both leaders seek to reset relations between America and the Russian Federation. This in itself provides hope to prevent further destabilizations of nations that have taken place under President Obama and to smooth tensions in areas of respective national interests.
Of course, many obstacles face Putin and Trump respectively and no timeframe is currently being mentioned. Yet, despite this, it is in the interest of both nations to reduce tensions in Europe, the Middle East, and other parts of the world where both nations currently clash.
Tass News reports, "The Russian leader once again congratulated Trump on his victory at the presidential elections, wished him success in the implementation of his election program and noted readiness to build partner dialogue with the new administration on the principles of equality, mutual respect and non-interference into each other's domestic affairs."
If Putin and Trump can reach accommodation then hopefully the Middle East, Eastern Europe, and parts of North Africa will gain from such powerful dialogue. After all, under Obama his policies – and that of fellow allies including France, Qatar, Saudi Arabia, Turkey, and the United Kingdom – have unleashed the destabilization of Libya and Syria – and emboldened the Muslim Brotherhood (Saudi Arabia opposed to this policy in Egypt). Similarly, such shortsighted objectives enabled the second destabilization of Iraq based on sectarian and terrorist intrigues against Syria.
In other words, ISIS (Islamic State) became a brutal Sunni Takfiri sectarian killing machine on the watch of Obama. Indeed, the destabilization of so many nations and continuing chaos in Libya means that millions of migrants (and refugees) are flooding into Europe and overwhelming nations including Jordan and Lebanon in the Middle East. At the same time, ISIS is spawning brutal Takfiri terrorist attacks in Europe, for example, brutal massacres in Belgium and France. Therefore, a reset between America and the Russian Federation is badly needed and the same applies to both nations helping pivotal nations including Egypt.
The BBC reports, "President-elect Trump noted to President Putin that he is very much looking forward to having a strong and enduring relationship with Russia and the people of Russia."
Naturally, obstacles remain but if both nations can reset and overcome the negative reality of Obama, then America, the Russian Federation, and the international community will gain greatly.
http://tass.com/politics/912313

http://www.bbc.com/news/world-us-canada-37981770