Armenia, Georgia, Iran and Russia Plan to Expand Energy Cooperation
Publication: Eurasia Daily Monitor
By: Armen Grigoryan
The Jamestown Foundation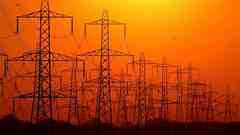 In Yerevan, on December 23, the energy ministers of Armenia, Georgia, and Iran as well as the chief executive of the Rosseti joint-stock company, which manages Russia's power distribution grids, signed a memorandum on cooperation in the energy sphere. According to the Armenian Ministry of Energy and Natural Resources, a 400/500 kilovolt (kV) power transmission line between Armenia and Georgia, and a 400 kV power transmission line between Armenia and Iran will start operating in 2018. Electricity exchange capacity between Armenia and Georgia will reach 350 megawatts (MW), with a further planned increase to 700 MW by 2021; exchange capacity between Armenia and Iran will reach 1200 MW. Currently, it is technically possible to synchronize the Armenian and Iranian grids, on the one hand, and the Georgian and Russian grids, on the other; but the new transmission lines will allow the single synchronization of all four countries' electric grids. The United States and the European Union are also apparently expected to provide technical assistance in the energy sphere for Armenia and Georgia (Minenergy.am, December 23, 2015).
According to Georgian Energy Minister Kakha Kaladze, Georgia has a surplus of energy in the spring and summer, but has a shortage in winter, while in Iran the situation is reversed. Therefore, the new transmission lines will allow these two states to manage their supplies more effectively, exporting or importing electricity as needed, depending on the season (Rezonansi, December 24, 2015; Regnum.ru, December 25, 2015). Armenia's Deputy Energy Minister Areg Galstyan noted that a coordinating group with representatives of the four countries will meet in April and argued that technical issues should be revised before that meeting, which would make it possible to specify the technical norms that will need to be adjusted (Regnum.ru, December 25, 2015). He also noted that the new transmission capacities will let Armenia expand its electricity exports to Iran in exchange for natural gas (Armenianow.com, December 25, 2015).
The four-state regional arrangement on energy cooperation is fraught with geopolitical difficulties. According to the Georgian daily Rezonansi, Russia's involvement in this scheme is being questioned within Georgia; and the Azerbaijani media has also reacted to this matter. Georgia is Azerbaijan's ally, but at the same time, Azerbaijan has been pursuing a policy of isolating Armenia. Baku-Yerevan relations remain hostile due to the unresolved Karabakh conflict; in fact, tensions along the line of contact have been constantly growing (see EDM, January 28, 2015; August 31, 2015; November 4, 2015; November 18, 2015). Azerbaijan's relations with Iran are also full of suspicion, as the Iranian theocratic regime supposedly supports anti-government religious radicalism in Azerbaijan.
This past November, speculation about the possibility of expanding Russo-Georgian trade in natural gas also caused some tensions in Georgia's relations with Azerbaijan, as well as in Georgian domestic politics (see EDM, November 9). Not only the opposition, but also representatives of the Georgian government have been questioning Russia's recent actions, such as its deployment of Iskander-M short-range ballistic missiles in occupied South Ossetia. Georgia's Minister of Defense Tinatin Khidasheli called this move a "regional security threat" (Apsny.ge, December 21, 2015).
While Georgian observers warn about the need for serious caution because of Russia's involvement in the four-party energy memorandum, Russian participation is hardly a surprise given that a Russo-Armenian agreement signed in August 2015 provides that the planned transmission lines connecting Armenia to Georgia and Iran will be operated by a Russian company. Moreover, that agreement itself is an annex to a Russo-Armenian deal signed in December 2013, which provided that the Russian company Gazprom would have a monopoly in Armenia for 30 years (see EDM, September 1, 2015). So, Armenia would need permission to increase the amount of gas imported from Iran, even though the Armenian gas-burning thermal plant that produces electricity for export to Iran belongs to a different Russian state-owned company.
Though keeping a cautious approach toward Russia, and having no immediate intentions to restore diplomatic relations with Moscow, Tbilisi may yet be trying to use the opportunity to expand its energy cooperation with Iran—even if this requires developing some additional economic ties with Russia. For Georgia, the potential benefits from cooperation with Iran probably seem more important in the longer term, especially after the Western sanctions against the Islamic Republic are lifted. Notably, Georgia may potentially be interested in cargo transit between the Persian Gulf and the Black Sea, with a possible connection between Georgia and Iran, either via Armenia or via Azerbaijan. The transit of Iranian natural gas is another lucrative opportunity, even though Russia currently prevents the construction of the shortest possible pipeline via Armenia (see EDM, September 1, 2015).
Armenia, in turn, has no alternative to developing cooperation with Georgia and Iran at the present moment, since—with no resolution of the Karabakh conflict in sight—a normalization of relations with Azerbaijan and Turkey remains impossible. Given Russia's political, military, and economic influence in Armenia, Yerevan cannot avoid Russian involvement in such projects of regional significance. Therefore, even a small step forward, such as the recent memorandum on energy cooperation, may be viewed as a relative success. After all, the ongoing decline of remittances from Armenian guest workers employed in Russia (see EDM, September 1, 2015) has motivated even some members of the cabinet in Yerevan to admit that their country's severe economic conditions and declining living standards demand a change to its economic policy.
The Jamestown Foundation kindly allows Modern Tokyo Times to publish their highly esteemed articles. Please follow and check The Jamestown Foundation website at http://www.jamestown.org/
https://twitter.com/JamestownTweets The Jamestown Foundation
http://www.jamestown.org/single/?tx_ttnews[pointer]=3&tx_ttnews[tt_news]=44939&tx_ttnews[backPid]=228&cHash=db2e7cd5e1d6d03747c6917ff196bca2#.VpvqjFL6n5c
Photo source Press TV in the original article by The Jamestown Foundation