Armenian Christians Flee Nagorno-Karabakh: NATO Turkey Entrenches
Kanako Mita and Lee Jay Walker
Modern Tokyo Times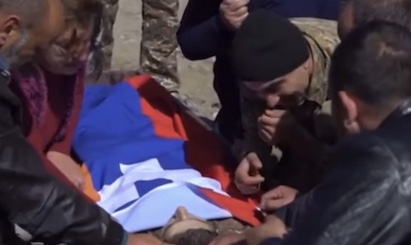 The embattled Armenian Christians of the dismantling Republic of Artsakh (Nagorno-Karabakh) are fleeing. Already, 50,000 Armenians have reached Armenia since regional forces in Nagorno-Karabakh were forced to capitulate after being abandoned by the international community.
Yet while Armenian Christians are being cleansed by Muslim Azerbaijan – the NATO nation of Turkey is planning on the economic and military benefits of pan-Turkism. Accordingly, the historical legacy of ancient Christianity in Nagorno-Karabakh faces the fate of Nakhchivan (Nakhichevan) – and the legacy of the 1915 Armenian Genocide at the hands of the Turks.
The legacy of the Turks in history concerning the Armenians – and other regional Christians, including the Assyrians and Pontic Greeks – is pogroms, genocide, ethnic cleansing, and the erasure of ancient Christianity (ancient Churches converted to mosques or destroyed along with dismantling architecture and the traces of indigenous Christianity).
NATO Turkey – and the likely policy of Muslim Azerbaijan against the indigenous Armenian Christians – continues to occupy and settle North Cyprus. Accordingly, Cypriot Orthodox Christians were cleansed in the middle of the 1970s by the Muslim Turks. Therefore, similar to what is happening now against Armenian Christians, the international community and NATO powers do nothing apart from grand statements.
President Recep Tayyip Erdogan of Turkey is already making the most of Armenian Christians fleeing. Accordingly, on Tuesday, he announced plans for a transport corridor that will connect both anti-Armenian nations of Azerbaijan and Turkey via the territory of a narrow strip of Armenian land.
Erdogan said, "Establishment of this corridor is very important for Turkey and Azerbaijan. This is a strategic issue and must be completed."
Erdogan continued, "We will establish the Zangezur corridor as soon as possible. We will have uninterrupted road and railway connection with our friend and brother Azerbaijan through Nakhchivan."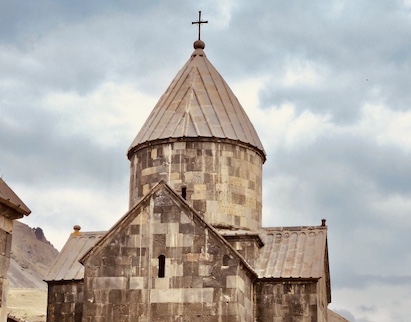 NATO Turkey is focused on boosting trade with Azerbaijan and Central Asia – while occupying North Cyprus and parts of North Syria – at a time when Armenian Christians are being ethnically cleansed in Nagorno-Karabakh.
Armenia – fearing the convulsions of history and the ongoing cleansing of Armenians in Nagorno-Karabakh – understands the European Union, NATO, Iran, and the Russian Federation have their vested interests where Armenians come a poor second to some of the above – and for Turkey and Azerbaijan, even worse.
Thomas De Waal (Carnegie Europe) said, "Many in Brussels and Washington feel shocked and betrayed by Azerbaijan's use of force. Up until the last minute, Azerbaijani President Ilham Aliyev was reportedly assuring high-level interlocutors—including European Council President Charles Michel and U.S. Secretary of State Antony Blinken—that he would not launch a military operation."
However, given the long-term ambitions of Azerbaijan and Turkey, the above speaks of naiveness at best. After all, similar to events in North Cyprus, NATO is extremely forgiving based on its geopolitical policies concerning Turkey and the Russian Federation (the Soviet Union when Turkey occupied North Cyprus).
Ursula von der Leyen (the European Commission President) last year said: "Today, with this new Memorandum of Understanding, we are opening a new chapter in our energy cooperation with Azerbaijan, a key partner in our efforts to move away from Russian fossil fuels."
The European Union hopes to double the imports from Azerbaijan of natural gas. Hence, by 2027, the EU and Azerbaijan will be even more connected – so much for the Armenians of Nagorno-Karabakh.
Al Jazeera reports, "Resource-rich Azerbaijan used oil and gas proceeds to expand its military capacity while strengthening ties with international powers, especially neighboring Turkey. On the other side, Armenia found itself increasingly isolated and economically weakened."
Sadly, for the Armenian Christians of Nagorno-Karabakh and North Cyprus, the forces of NATO care more about the geopolitical merits of Turkey. Meanwhile, Turks in recent history have genocidal (1915 Armenian Genocide) and ethnic cleansing tendencies aimed at Armenians and other Christian ethnic groups who were butchered (Assyrians and Pontic Greeks).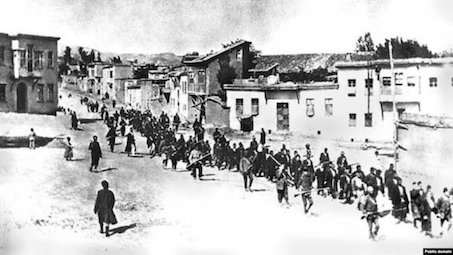 Overall, the European Union is fixated on the energy angle. Israel supplies sophisticated weapons to Azerbaijan – with an eye on Iran. The Russian Federation and Iran focus on respective geopolitical concerns and have other pressing issues. NATO is fixated on Turkey's important geopolitical role – while Turkey is focused on pan-Turkism and dismantling older Christian civilizations that have been part and parcel of regional history.
France seems genuinely concerned about the threats that Armenia faces – and the fate of Armenians in Nagorno-Karabakh. However, the distance between France and Armenia renders this to political condemnation and possible economic angles – but not a much-needed peacekeeping mission to protect the Armenians of Nagorno-Karabakh.
Accordingly, the Armenians of Nagorno-Karabakh will join the ghosts of past pogroms, ethnic massacres, genocide, and the erasure of ancient Christianity to be replaced by mosques and Islam.
The Guardian reports (Nakhchivan), "Local researcher Argam Ayvazyan, now exiled in Armenia, photographed 89 Armenian churches, 5,840 khachkars, and 22,000 tombstones between 1964 and 1987 – which the report states have all disappeared."
The above awaits the Armenian Christians of Nagorno-Karabakh – ethnically cleansed first and then the erasure of ancient Christian holy places, architecture, and graveyards.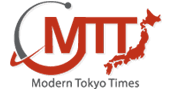 Modern Tokyo News is part of the Modern Tokyo Times group
http://moderntokyotimes.com Modern Tokyo Times – International News and Japan News
http://sawakoart.com – Sawako Utsumi and her website – Modern Tokyo Times artist
https://moderntokyonews.com Modern Tokyo News – Tokyo News and International News
PLEASE JOIN ON TWITTER
https://twitter.com/MTT_News Modern Tokyo Times
PLEASE JOIN ON FACEBOOK
http://facebook.com/moderntokyotimes