Coptic Christians Killed in Egypt: Islamists Slaughter inside a Christian Holy Place
Boutros Hussein, Noriko Watanabe, and Lee Jay Walker
Modern Tokyo Times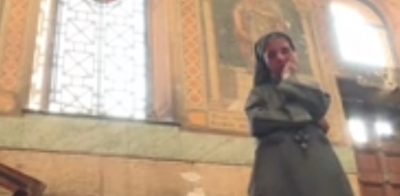 Coptics Christians were praying to God but for Sunni Islamists nothing is sacred, hence similar butchering that targets Shia Muslims in several nations during holy processions. Indeed, the Christian Coptic holy place – just like attacks against Shia mosques by the same Sunni Islamists – equates to a golden opportunity to slaughter the innocent. Therefore, the bomb attack that killed at least 25 Christians inside a holy religious building sums up the utter barbarity of Sunni Islamist Takfiris.
Reuters reports, "The explosion took place in a chapel, which adjoins St Mark's, Cairo's main cathedral and the seat of Coptic Pope Tawadros II, where security is normally tight."
President Abdel-Fattah el-Sisi announced an immediate period of three days of mourning on hearing about the terrifying terrorist attack. El-Sisi declared that indiscriminate terrorism aimed at the Egyptian people would unite people against such barbarity.
He said, "Vicious terrorism is being waged against the country's Copts and Muslims. Egypt will emerge stronger and more united from this situation."
Takfiris hope to spread sectarianism throughout Egypt just like the Muslim Brotherhood seeks to endanger the economy. In other words, the more radical Islamists are butchering openly, while the Muslim Brotherhood is playing a double game in order to reach the corridors of power in America, Qatar, Turkey, and the United Kingdom. However, both forces seek a government based on Sharia Islamic law and where the indigenous Coptic Christians become dhimmis.
President el-Sisi faces enormous challenges because of the chaos ushered in throughout the region based on the auspices of certain nations – both Middle Eastern and Western – that saw opportunities under the estranged Obama administration. These convulsions that appeared under the so-called "Arab Spring" continue to haunt many regional nations. Therefore, nations including Egypt, Libya, Iraq, Syria, and Yemen have all faced the intrigues of other nations – while Shia Muslims in Bahrain have been abandoned by Gulf and democratic nations alike.
The latest terrorist attack aimed at slaughtering Coptic Christians is a grim reminder of the regional and international menace of Sunni Islamist Takfiris.
http://english.ahram.org.eg/NewsContent/1/64/251821/Egypt/Politics-/Egypts-Sisi-declares-three-days-of-mourning-after-.aspx