Nagano Tourism in Japan: Jigokudani Monkey Park
Michel Lebon and Hiroshi Saito

Modern Tokyo Times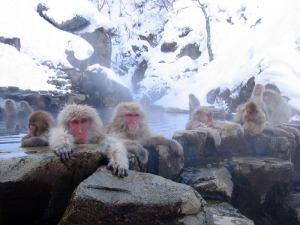 In Nagano prefecture you have the Jigokudani Monkey Park whereby visitors can watch Snow Monkeys (Japanese Macaques) bathing in a natural onsen (hot spring). The best season to watch from a photographic point of view is the winter season and between December and March you usually have a good covering of snow. Also, the scenery is most enjoyable and of course you have many onsens for humans doted all around Yamanouchi. This applies to many stylish onsens in Shibu, Yudanaka, and Kanbayashi.
The monkeys are very confident on the whole therefore you can take really good photos. However, people are forbidden to touch and feed the monkeys because of safety reasons and this applies to both ways. Therefore, Jigokudani Monkey Park is a great place to see wild monkeys whereby you are in touching distance. Also, the sight of seeing monkeys bathing in the hot spring will return adults back to their childhood.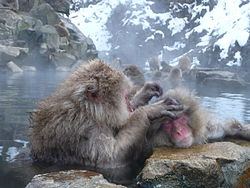 If you visit in the winter season then it is essential that you have proper winter clothes on because the temperature is very cold. Also, it is vital to make sure that your footwear is adequate and warm socks are a must. However, if people are well prepared and visit this part of Nagano for the day or stay for a proper holiday, then it is well worth the preparation.
Snow monkeys are clearly visible before entering the main area and the walk takes a little time depending on individual speed. In fact, while it is called a park it is in reality a forest and the walk is extremely pleasurable and makes the occasion special.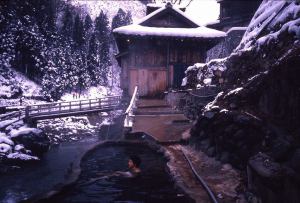 If you want to experience aspects of Japanese culture and you plan to stay at least one night, it is highly recommended that you stay in a ryokan in Shibu, Yudanaka, Kanbayashi, and other areas near to Jigokudani Monkey Park. Ryokans like all places where people stay cater for different budgets but these traditional Japanese style inns will expand your cultural knowledge of Japan. Also, many ryokans have been in the same family for generations and if you stay at a ryokan with a good reputation, then the atmosphere and cultural traits will impress all tourists.
Maids who work at the ryokans will be dressed in a traditional Japanese kimono and the tatami mats in the guest rooms will make you feel nice and relaxed. At night you will sleep on a futon which is a traditional kind of mattress and the sliding shoji doors adds to the quaintness. In the room you will also have a small area called tokonoma where you will see ikebana flowers and a scroll picture. This creates a nice ambience and will enable you to embrace the occasion to a higher degree.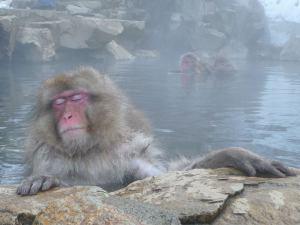 Of course each ryokan will have different facilities but if individuals do some basic backgrounds checks then your stay will be most rewarding. After all, Western style hotels can be found all over the world therefore it is a great opportunity to feel the uniqueness of Japan.
However, if individuals prefer modern hotels then you have many fantastic places to stay and the hospitality and views of many are extremely pleasing on the eye. Not only this, each hotel will provide a unique atmosphere and individuals are spoilt for choice because you have many splendid ryokans and hotels in this part of Nagano.
Nagano prefecture is also very beautiful and for individuals who have many days to relax and enjoy the stunning nature of this part of Japan, then your decision will be rewarded. Jigokudani Monkey Park is a great place to explore Nagano and the winter period is so scenic. The monkeys also bring a nice dimension because the sight of seeing these beautiful creatures really warms the heart.
Lee Jay Walker gave guidance to both main writers
PLEASE CHECK THE LINKS BELOW FOR GOOD INFORMATION
http://www.nagano-cvb.or.jp/english/excursions.html
http://www.jigokudani-yaenkoen.co.jp/
http://www.japan-guide.com/e/e6028.html
http://www.yudanaka-shibuonsen.com
http://www.mustlovejapan.com/subject/jigokudani_monkey_park/