Niger Revokes Military Cooperation with France (Burkina Faso, Guinea, and Mali)
Kanako Mita and Michiyo Tanabe
Modern Tokyo Times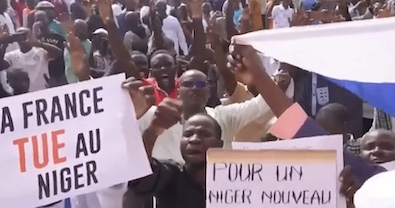 General Abdourahamane Tianim, the coup leader of Niger, supports revoking military cooperation with France. At the same time, Burkina Faso, Guinea, and Mali are emboldening Niger against the threats emanating from the regional bloc of ECOWAS (Economic Community of West African States) by denouncing all threats.
Military forces – after detaining President Mohamed Bazoum in the capital city of Niamey – declared a similar stance to Burkina Faso, Guinea, and Mali. Accordingly, external forces deemed detrimental to Burkina Faso, Mali, and Niger have been told to leave the country (in recent history) – Niger being the latest nation. This notably concerns the role of France.
President Mamady Doumbouya of Guinea expressed strong "disagreement with the sanctions recommended but ECOWAS, including military intervention."
Burkina Faso and Mali in a joint statement declared: "Any military intervention against Niger would be tantamount to a declaration of war against Burkina Faso and Mali."
Voice of America reports, "Niger's military junta has revoked military cooperation agreements with France as a deadline to release and reinstate ousted President Mohamed Bozoum looms and efforts by a West African delegation to meet with coup leaders faltered."
Concerning hostile statements made by ECOWAS, the new military leaders said: "Any aggression or attempted aggression against the State of Niger will see an immediate and unannounced response from the Niger Defence and Security Forces on one of (the bloc's) members."
The Guardian reports, "… the harnessing of anti-French – and more widely anti-foreign – sentiment has rapidly become a key element of how the coup is being framed by its leaders and supporters as the junta faces the threat of military intervention by the ECOWAS regional grouping if Bazoum is not restored to power."
Islamic insurgencies throughout the region and terrorism led the military of Niger to take a similar stance to Burkina Faso and Mali. Accordingly, military coups have taken place in all three nations. Therefore, when ECOWAS mentioned military intervention in Niger unless Bazoum is restored to power: the nations of Burkina Faso, Guinea, and Mali declared their support of Niger against external forces.
Nigeria – a powerful nation in ECOWAS – is hypocritical because Islamists from this nation have destabilized the Lake Chad region. Also, after NATO powers destabilized Libya, this event led to a massive deterioration of the Sahel region to parts of North Africa – while opening up a vacuum for mass immigration, criminality, terrorism, spreading of military arms, and the destabilization of several nations.
The BBC says, "There are concerns Niger's new leadership could now move away from its Western allies and closer to Russia, like Burkina Faso and Mali, which have both pivoted towards Moscow since their own military coups."
AP News reports, "Niger had been seen by the United States and allies as the last major counterterrorism partner in the immediate region after Mali and Burkina Faso kicked out French troops and Mali ordered a 15,000-strong U.N. peacekeeping mission to leave, claiming it had failed in its mission."
Lee Jay Walker says, "External forces including ECOWAS, America, France, the United Nations, and the European Union can't keep on dictating to regional nations that seek a way out of the cycle of Islamic insurgencies, terrorism, rampant poverty, collapsing nation-states, and other ills that blight the Sahel region and the surrounding environs."
France and ECOWAS must look at themselves rather than pointing the finger at Burkina Faso, Guinea, Mali, and Niger. After all, what led to the crisis in the first place?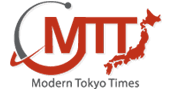 Modern Tokyo News is part of the Modern Tokyo Times group
http://moderntokyotimes.com Modern Tokyo Times – International News and Japan News
http://sawakoart.com – Sawako Utsumi's website and Modern Tokyo Times artist
https://moderntokyonews.com Modern Tokyo News – Tokyo News and International News
PLEASE JOIN ON TWITTER
https://twitter.com/MTT_News Modern Tokyo Times
PLEASE JOIN ON FACEBOOK