Parliamentary Elections Confirm Kyrgyzstan's Pro-Russian Orientation
Publication: Eurasia Daily Monitor
By: George Voloshin
The Jamestown Foundation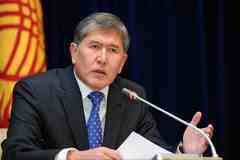 On October 4, Kyrgyzstan held parliamentary elections—the first in the country's history in which the authorities used voters' biometrics to obtain quick and reliable polling data. While the definitive results will only be released 20 days after the vote (by October 25), the Kyrgyzstani Central Electoral Commission, on October 5, issued a statement proclaiming the pro-presidential Social-Democratic Party (SDPK) the winner. It has garnered 27.4 percent of the ballots cast and is followed by the main opposition bloc, Respublika–Ata Zhurt (21 percent), as well as four other parties: Kyrgyzstan (12.8 percent), Onuguu-Progress (9.3 percent), Bir Bol (8.5 percent), and Ata-Meken (7.7 percent) (Interfax, Sputnik News, Kloop.kg, Akipress.org, October 5).
Both SDPK and Ata-Meken are members of the currently ruling coalition, which was formed in September 2012 and was subsequently renewed in its initial composition in April 2014 and May 2015. Including the 25 members of parliament (MP) affiliated with Ar-Namys, the governing coalition has been in control of more than half of all seats (69 out of 120) in Kyrgyzstan's unicameral legislature in Bishkek since the previous elections of October 2010. Yet, this time, Ar-Namys has failed to surpass the 7 percent threshold to enter the parliament, which was put in place by amendments to the electoral law in 2011, up from the prior level of 5 percent (24.kg, September 5; see EDM, May 6; Tengrinews.kz, March 31, 2014; Azattyk.org, September 1, 2012).
In spring 2015, Ar-Namys chairman Felix Kulov repeatedly suggested amending the law once again by increasing the minimum threshold from 7 to 9 percent. His idea might initially have sounded counterintuitive to a few observers, given Ar-Namys' limited chances of qualifying under a more stringent system. Yet, Kulov insisted that if only one party received enough votes to enter parliament, the three following contenders should be admitted there automatically regardless of how many votes they had each obtained. However, every time it was fielded, his proposal was struck down at an early stage. In fact, for it to succeed it would have called for constitutional changes that normally require the consent of at least 80 MPs, which Kulov did not have (Kyrtag.kg, July 1; Vb.kg, March 6, February 27).
With Ar-Namys now out of the picture for the next five years, SDPK and Ata-Meken are likely to ally themselves with the three minor parties, thus leaving the Respublika–Ata Zhurt bloc in a vocal but feckless opposition. A less probable scenario consists of a tactical alliance between SDPK and Respublika–Ata Zhurt, which would give these two parties a sure majority in parliament. On October 6, the latter's leader, Omurbek Babanov, who headed Kyrgyzstan's government between December 2011 and September 2012, said there were "good chances" that such an alliance might eventually materialize. The moderate Respublika, which left the SDPK-led coalition in late 2012, and the nationalist Ata-Zhurt—known historically as the mouthpiece of the South—merged last October. Despite Babanov's optimism, his party's discourse is still tinged with anti-regime undertones, albeit less confrontational than in the past (Gezitter.org, Centasia.ru, October 6; News-asia.ru, October 20, 2014).
All of the above obviously plays into the hands of President Almazbek Atambayev, a two-time prime minister (March–November 2007, December 2010–December 2011), who also used to stand at the helm of the SDPK. In accordance with the 2010 Constitution, which was adopted in the wake of deadly pogroms in southern Kyrgyzstan following the ouster of Kurmanbek Bakiyev, Atambayev's six-year term will end in October 2017. He is barred from running for a second term and has time and again reiterated his intention to leave office as is required by law (Catoday.org, March 31; Paruskg.info, December 4, 2014). Therefore, the president's core preoccupation through 2018 will be the preservation of his own legacy, whose key element is related to Kyrgyzstan's continued membership in the Russia-dominated Eurasian Economic Union (EEU) and Collective Security Treaty Organization (CSTO).
Bishkek became a full-fledged member of the EEU on August 12, 2015, following months of intense negotiations with the union's three cofounders—Russia, Kazakhstan and Belarus—over the terms of its accession. According to Kyrgyzstan's Economy Minister Oleg Pankratov, Bishkek's trade with the EEU expanded by more than 30 percent since the cancelation of border customs controls in mid-August (Sputnik News, Vb.kg, September 22; RIA Novosti, August 12).
In January–July 2015, Russian-Kyrgyzstani trade turnover reached $878 million and Russia's share of Kyrgyzstan's total external trade jumped to 27.7 percent, from 25.9 percent the year before. While Russia has drastically curtailed its investments in Kazakhstan to the advantage of China, it remains a key investor in Kyrgyzstan and is notably in charge of several large-scale hydropower projects, such as Kambarata-1. Moreover, Gazprom is currently modernizing Kyrgyzstan's gas infrastructure in a bid to make the country less dependent on imported gas from Uzbekistan, with which relations have been tense since the 1990s (Azattyk.org, October 2; Akipress.org, September 18; 24kg.org, August 31).
The rising threat of violent extremism, especially in the form of the Islamic State, is another reason for Bishkek to stay close to Moscow both bilaterally and via the CSTO. In contrast, as (and because) its ties with Moscow have grown ever tighter, Bishkek's relations with Washington are becoming cooler than ever before (see EDM, August 7).
The Jamestown Foundation kindly allows Modern Tokyo Times to publish their highly esteemed articles. Please follow and check The Jamestown Foundation website at http://www.jamestown.org/
https://twitter.com/JamestownTweets The Jamestown Foundation
http://www.jamestown.org/single/?tx_ttnews[tt_news]=44492&tx_ttnews[backPid]=7&cHash=b84e1b2acc93678be2f67e06d7f3fdab#.ViFyw6T6mKI
Photo image of Kyrgyz President Almazbek Atambayev (Source: trend.az) supplied in the original article by The Jamestown Foundation
Publication: Eurasia Daily Monitor Volume: 12 Issue: 187 – The Jamestown Foundation