Sunni Islamist Attack Kills over 50 at Sufi Shrine in Pakistan
Murad Makhmudov, Michiyo Tanabe, and Lee Jay Walker
Modern Tokyo Times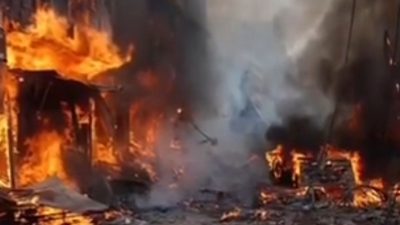 Sunni Takfiri Islamists have killed many worshippers inside a Sufi Shrine in Balochistan, Pakistan. It is known that at least 52 worshippers have been killed in the latest attack against fellow Muslims that are deemed apostates by Sunni Takfiris. Sadly, the latest brutal slaughter in Pakistan isn't a shock because Shia Muslims are killed regularly in Pakistan. Similarly, institutional state hatred and terrorist attacks against religious minorities, including the Ahmadiyya and Christians, is commonplace in Pakistan.
The latest brutal attack took place at the Sufi Muslim shrine of Shah Noorani in Balochistan. It is known that the remoteness of the shrine meant that emergency support couldn't reach the area immediately.
Apparently, ISIS (Islamic State – IS) claimed responsibility but with so many competing Sunni Takfiri terrorist groups – and interlinks – then this can't be fully verified until an investigation takes place. Irrespective of this, it is clear that Sunni Islamists were behind the planning and execution of the latest attack. Therefore, it remains to be seen what the central state will do given regional internal tensions in Balochistan and the array of terrorist groups in this nation.
The BBC says, "In October, dozens were killed in an attack on a police college in the city of Quetta and in August an attack on a hospital there killed 70 people… But doubt has been cast over IS claims of previous attacks in the country."
It remains to be seen how Pakistan can escape the cycle of violence because many Sunni Takfiri religious schools are brainwashing children and young adults. At the same time, Pakistan – and other nations – manipulated Islamist sectarians in Afghanistan for personal reasons during the communist era. This reality – and internal separatist movements in Balochistan – means that Takfiri carnage will continue for the foreseeable future in Pakistan along with institutional state discrimination against religious minorities.
http://www.bbc.com/news/37962741