Ethiopia Must Continue to Help Stabilize South Sudan
Project Director, Horn of Africa
International Crisis Group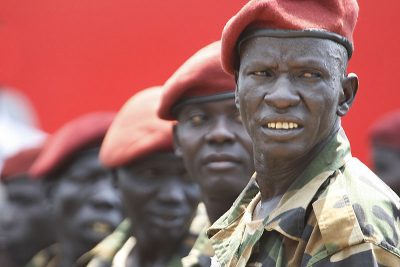 Ethiopia's commitment to peace-making in South Sudan has been critical for regional stability. It has much to gain from continuing this engagement, including a secure border and trade with a stable neighbour. But achieving lasting peace after South Sudan's two-year-long civil war is a long-term undertaking.
Ethiopia has shown strong leadership and a level of direct involvement in peace efforts in Sudan and South Sudan that few countries can match.
The African Union High Implementation Panel (AUHIP) peace talks on the conflicts are held in Ethiopia. Addis Ababa led the Intergovernmental Authority on Development (IGAD, a regional body) peace process on South Sudan and is a guarantor of the August 2015 Agreement on the Resolution of the Conflict in the Republic of South Sudan (ARCSS). It deploys peacekeepers to the UN Mission in South Sudan and is the main contributor to the UN Interim Security Force for Abyei (on the Sudan-South Sudan border). It is also expected to be the lead contributor to the 4,000-strong UN Regional Protection Force (RPF) based in Juba.
Ethiopia's two-year membership on the UN Security Council (UNSC) should be an opportunity to better connect regionally-led political processes to UN action.
Implementing the ARCSS and the Regional Force
Following the July 2016 fighting in Juba, ARCSS has been reshaped, and the RPF and national dialogue process created to reinforce its principles. Concerted support is required from Ethiopia, fellow IGAD member states, the Joint Monitoring and Evaluation Commission (JMEC, overseeing ARCSS implementation and reporting to the IGAD heads of state) and the UN to reduce conflict under an inclusive government.
These processes, and the RPF's role in supporting them, are fluid and interconnected. For example, a successful negotiation between the transitional government and an armed group increases the chances of successful dialogue between communities caught up in the conflict. There is now a window of opportunity to shape and provide capacity-building to efforts to make the new South Sudan transitional government more inclusive.
Given the trust deficit that exists between South Sudan's government and opposition figures, the UN's RPF has a role to play in helping create conditions conducive to ARCSS implementation and national dialogue.
Ethiopia's support for talks between these parties makes it a critical partner in supporting inclusivity in Juba. For this to take place, the RPF must deploy and demonstrate its worth. In addition to JMEC, the RPF provides a direct link to Ethiopia and other IGAD leaders in their oversight of ARCSS and efforts to form a more inclusive government.
On the sidelines of the forthcoming AU summit, Ethiopia and IGAD leaders should consider what can be done to expedite RPF deployment and how it can be better tied to political engagement to support genuine efforts toward greater transitional government inclusivity.
Mutual Security and Prosperity
Ethiopia's mediation and peacekeeping efforts also support stability at home. During Ethiopian Prime Minister Hailemariam Desalegn's 28 October visit to Juba, he and President Kiir made assurances that they would not support rebels in either country ­– a critical restatement of a mutual understanding between the two countries.
Ethiopia's border with South Sudan hosts cross-border communities that experience multiple, overlapping communal tensions that can lead to violence. A large Murle raid from South Sudan into the Gambella region last April required the Ethiopian army's temporary deployment into South Sudan to secure the return of abducted children and to monitor both sides of the border. This took place during a separate period of intercommunal conflict in Gambella, which was exacerbated by the large numbers of refugees in the region.
Supporting South Sudan to reduce political and communal conflicts along their shared border – which requires effective and inclusive governance from Juba – will improve security in Gambella and reduce refugee inflows, which tend to exacerbate intercommunal tensions in the border region.
Violence and displacement are detrimental to the mutually beneficial cross-border trade that was growing fast before South Sudan's civil war started in 2013. Stability and security can enable development rather than humanitarian crisis in the impoverished border regions and beyond.
Ethiopia should not waiver in its commitment to ensuring a peaceful South Sudan and use the many tools at its disposal – IGAD, ARCSS, JMEC, the RPF and its term since January on the UN Security Council – to support an inclusive and stable government in Juba. Successful peace-making will ensure greater stability in Ethiopia and facilitate sustained trade and economic development – which is to everyone's benefit.
The International Crisis Group kindly allows Modern Tokyo Times to publish their esteemed articles based on important research. Please check the website of this highly valued international organization at http://www.crisisgroup.org/
https://twitter.com/CrisisGroup International Crisis Group on twitter
https://www.crisisgroup.org/africa/horn-africa/ethiopia/ethiopia-must-continue-help-stabilise-south-sudan
Photo not supplied by International Crisis Group