Marine Le Pen Promises to Restore Hope and Fight Globalization in France Election Bid
Sawako Uchida and Lee Jay Walker
Modern Tokyo Times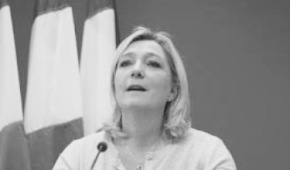 The passionate and intellectual politician Marine Le Pen of the National Front (FN) made a powerful political appeal to the French masses. This notably applies to fighting against the negative excesses of globalization, the growing rise of Sunni Islamic fundamentalism, restoring fresh hope in the natural beauty of French culture, and reinvigorating France from the endless dead ends being created by traditional political elites. Therefore, Le Pen made a very passionate appeal to the electorate of France in her electoral bid to become the next leader of France.
Often, the usage of "far-right" is sprouted about the FN. Yet, under the leadership of Le Pen, you have a maturing political movement that seeks to solve the many powerful negatives that are eating away at France. Also, it is the usual political elites over many decades that are enabling "a real far-right Sunni Islamic theocratic fascism to spread in democratic France." Hence, to many ordinary citizens what is "far-right" about seeking to reinvigorate French culture, protect citizens against growing Sunni Islamization, tackling crime, fighting back against globalization that seeks to exploit labor, ending endless economic immigration, giving hope to indigenous marginalized communities in parts of major cities, fighting back against the excesses of the European Union, and providing space for French companies to grow and prosper.
Le Pen knows that Francois Fillon is facing a major scandal that threatens his leadership bid. Similarly, Emmanuel Macron sounds like a Tony Blair drone that just uses words without any substance behind his rhetoric. Yet, the role of the mass media and political collusion of the traditional elites who are running France into the ground will still try to usurp the sole leading candidate, who promises to break the downward spiral of this nation.
Le Pen elegantly says, "What is at stake in this election … is whether France can still be a free nation… The divide is not between the left and right any more but between patriots and globalists."
Le Pen also stated, "Financial globalization and Islamist globalization are helping each other out … Those two ideologies want to bring France to its knees."
Reuters says, "An FN government would also take France out of the euro zone, hold a referendum on EU membership, and slap taxes on imports and on the job contracts of foreigners."
In modern day France major cultural areas need to be protected by armed security forces because of the scourge of Sunni Islamic terrorism. Similarly, the fear of crime in parts of major cities along with the speed of mass immigration and globalization is creating embattled indigenous areas. Indeed, the soul of France is at stake over the next few decades. Therefore, Le Pen is appealing to the French electorate for a "free, independent and democratic country."
http://www.reuters.com/article/us-france-election-fn-idUSKBN15K0R1