Israel Focuses more on China: High Technology and Heavy Investment
Boutros Hussein and Lee Jay Walker
Modern Tokyo Times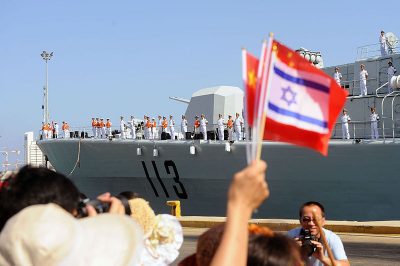 The government of Israel under Prime Minister Benjamin Netanyahu is increasingly focused on major Asian powers. Of major significance are China and India but other regional powers like Australia are being targeted. Yet, the flow of economic investments from China is extremely noticeable.
In the realm of geopolitics, then China and Israel may beg to differ, for example, China refused to bow down to international pressure at the United Nations Security Council in relation to Syria. Similarly, China is a firm supporter of Pakistan and relations with Iran are favorable. This reality points to the collective keys being "economics" and "non-interference" in the internal affairs of other nations. Therefore, the "Palestinian issue" will not faze the business leaders of China and the same applies to the Chinese Communist Party (CCP).
Indeed, in 2015 it is claimed that approximately fifty percent of Israeli funds witnessed investments involving Chinese capital. Similarly, approximately 40 percent of all capital invested into venture capital companies in Israel involved Chinese capital. Therefore, the geopolitical angle of Israel is clearly secondary when it comes to the CCP and the Chinese business community.
High technology and business innovation in Israel appeals greatly to China. This reality is abundantly clear because high-tech exports from Israel to China continues to grow at a fair pace. Of notable significance is the area of agri-tech and security issues related to the cyber sector – and other important areas in relation to high technology.
Netanyahu will first visit China while the leader of India, Prime Minister Narendra Modi, will visit Israel later this year. During Netanyahu's visit to Singapore, the leader of Israel said, "Israel is pivoting towards Asia in a very clear and purposeful way."
Currently, the European Union remains the most important trading bloc for Israel. Despite this, trade with Asia is growing and the future for Israel seems to be increasingly embedded with major Asian powers. Of course, Israel seeks a broad approach to economic trade that enables being open to business irrespective of geography. Yet, the growing economic leverages of China – and other nations including India set to follow – then the pivot of Asia will continuously grow for Israel.
Other important areas of trade between China and Israel apply to other sectors. For example, Reuters reports, "Chinese firms are driving major infrastructure projects in Israel, including Tel Aviv's metro system and new Mediterranean ports in Haifa and Ashdod. A deal for 6,000 Chinese construction workers to come to Israel was signed earlier this year, with the possibility of extending it to 20,000."
Overall, it is clear to Israel that the "Palestinian issue" doesn't concern leading Asian powers to any degree. In other words, the focus is on investments, high technology, developing respective infrastructures, joint ventures, and increasing the flows of capital.
http://www.reuters.com/article/us-israel-china-business-idUSKBN16R1AV