Japanese Artist and Landscapes of Manchester: Blackley Forest, Heaton Park, and River Irk

Lee Jay Walker
Modern Tokyo Times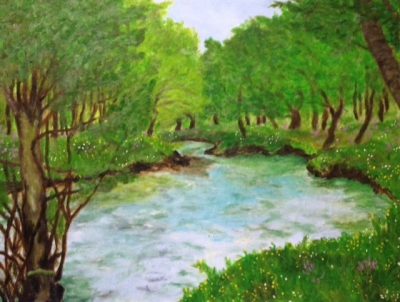 The contemporary Japanese artist, Sawako Utsumi, fuses the art world of Japan and Europe based on an array of areas. For example, from the inspiration of traditional Dutch art to the cityscapes of Paris. Similarly, her Japanese art focuses on angles related to Buddhism, Shintoism, and old art forms. At the same time, Utsumi adores the landscapes of the High Peak area and Peak District in general; in relation to the stunning county of Derbyshire and the beautiful Christian churches that dot the landscape. However, in this article, the emphasis is on Heaton Park and the hidden gem of Blackley Forest in Manchester.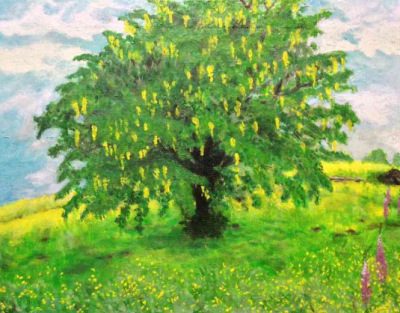 Ironically, while these two art pieces focus on the natural landscapes of Manchester, Utsumi also adores L.S. Lowry (Lowry inspired art piece below by Utsumi) with his connection to Salford and Manchester respectively. In stark contrast to L.S. Lowry, who especially focused on scenes related to the Industrial Revolution and ordinary working-class lifestyles, Utsumi focuses on the angle of nature in relation to her landscapes of Manchester.
In her latest oil painting, titled the Hidden Gem of Blackley Forest in Manchester, the adorable natural landscape comes alive. Indeed, the other art piece, titled Laburnum Tree in Splendid Isolation, is also based in the same part of north Manchester. However, despite Blackley Forest and Heaton Park sharing the same environment and being within a few minutes walking distance, it is true to say that Blackley Forest is a genuine "Hidden Gem." After all, you rarely see many people relaxing in this less known part of Manchester despite Blackley Forest being extremely beautiful and blessed with a rich natural habitat for animals, birds, various species of trees, and plants. Also, Utsumi focuses on the natural beauty of the River Irk that flows into the River Irwell in central Manchester.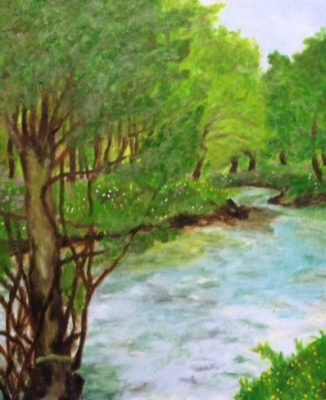 The art piece by Utsumi shows Blackley Forest in all its natural beauty. This applies to the delightful landscape and the mellow walk by the River Irk. Hence, the natural flow of the River Irk blends beautifully with trees, flowers, and plants, depicted by Utsumi in her latest art piece.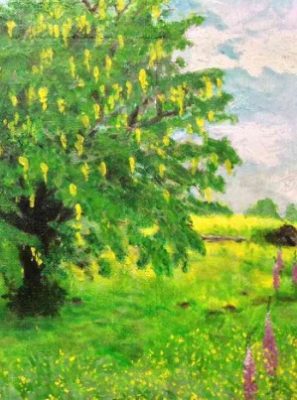 In a past article, I state, "The other art piece, Laburnum Tree in Splendid Isolation, highlights the natural beauty of nature. Indeed, for individuals who adore the laburnum tree, then while the original art piece is located in northwest England, the tree itself could be in various parts of this nation. Immediately, the adorable laburnum tree hits the individual because people who love this species will have vivid memories."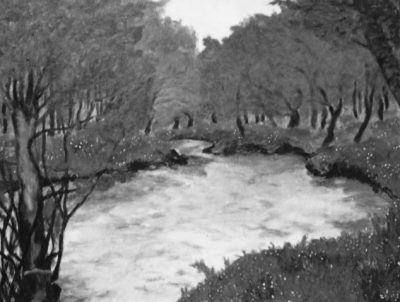 Overall, this contemporary Japanese artist continues to blossom because of the array of angles to her art. Therefore, her latest art piece illuminates the stunning beauty of Blackley Forest in Manchester.
http://www.blackleyforest.com/
BELOW IS A NEW BOOK BASED ON THE ART OF SAWAKO UTSUMI
Book Review: Sawako Utsumi and her Kindred Spirit
European and Japanese Art: Buddhism, Christianity, Landscapes, Rinpa, Shintoism, Ukiyo-e, and Dutch Masters
http://www.lulu.com/shop/lee-jay-walker/sawako-utsumi-and-her-kindred-spirit/paperback/product-22830732.html – Please click on to order the book.
https://fineartamerica.com/profiles/sawako-utsumi.html Sawako Utsumi and where you can buy her art, postcards, bags, and other products. Also, individuals can contact her for individual requests.

https://fineartamerica.com/featured/hidden-gem-of-blackley-forest-in-manchester-sawako-utsumi.html Hidden Gem of Blackley Forest by Sawako Utsumi

http://fineartamerica.com/featured/laburnum-tree-in-splendid-isolation-sawako-utsumi.html Laburnum Tree in Splendid Isolation by Sawako Utsumi
http://sawakoart.com Sawako Utsumi and articles related to her art.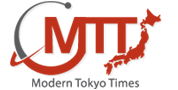 DONATIONS to SUPPORT MODERN TOKYO TIMES – please pay PayPal and DONATE to sawakoart@gmail.com
http://moderntokyotimes.com Modern Tokyo Times – International News and Japan News
http://sawandjay.com Modern Tokyo Times – Fashion
https://moderntokyonews.com Modern Tokyo News – Tokyo News and International News
http://global-security-news.com Global Security News – Geopolitics and Terrorism
PLEASE JOIN ON TWITTER
https://twitter.com/MTT_News Modern Tokyo Times
PLEASE JOIN ON FACEBOOK