Jaysh al-Ayman: A 'Local' Threat in Kenya
Publication: Terrorism Monitor
By: Sunguta West
The Jamestown Foundation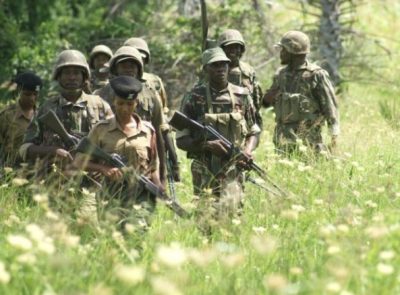 After a series of deadly attacks, Jaysh al-Ayman, an elite al-Shabaab unit formed about five years ago to carry out operations inside Kenya, has emerged as the deadliest terrorist cell in the East African nation. Although it started life in Somalia, the al-Qaeda affiliate's Kenya wing portrays itself as a local movement and has set up bases in the Boni forest, an expanse of woodland in Kenya's coastal Lamu County, which extends to the border with Somalia. It is from here the faction terrorizes villages and towns, and targets the police, the military and other government institutions (Daily Nation, August 22, 2017).
The faction is named after one of its top leaders, Maalim Ayman (a.k.a. Dobow Abdiaziz Ali), an ethnic Somali from Mandera County. [1] He was likely appointed to the role in the hope that having a Kenyan in charge of what is effectively al-Shabaab's Kenya wing would ease tensions. Details about Ayman are scarce, and his current role within the group is unclear. According to some reports, however, he continues to train the group's fighters in wilderness survival techniques (The Star, July 13, 2015).
A Bloody Beginning
The unit's origins can be traced to the events on June 20, 2013, in Barawi, an ancient Somali coastal town, where differences within al-Shabaab boiled over. Barawi had become al-Shabaab's operational headquarters after it was forced out of the port of Kismayu by the Kenyan military—Kismayu had served as group's headquarters since it was established in 2006 (The Standard, July 23, 2017). On June 20, Ahmed Abdi Godane, then al-Shabaab's emir, was concerned that members of the group's shura council were accusing him of adopting a murderous strategy that targeted civilians and were preparing to split away from the group.
Two years prior, in 2011, the African Union Mission in Somalia (AMISOM) had been strengthened by Kenyan troops. Concerned with how to keep his group intact in the face of an onslaught by a better-armed foe and desperate to reassert his authority, Godane ordered the Amniyat, the group's elite spy wing, to execute Ibrahim al-Afghani, a member of al-Shabaab's shura council. Other shura members, among them Mukhtar Robow and Shaykh Dahir Aweys, were also targeted, but escaped and later defected to the Somali government.
In late 2013, following a strategy aimed at fighting a more effective asymmetrical war in Somalia and its neighbors, Godane unveiled two new wings of al-Shabaab—Jaysh al- Usra, which he directed at Ethiopia, and Jaysh al-Ayman, which would target Kenya, Uganda and Tanzania (The Reporter, August 20, 2016).
While Jaysh al-Usra failed to penetrate Ethiopia, Jaysh al-Ayman has seen success in Kenya. So much so, in fact, that although Kenyan security agencies launched the Operation Linda Boni (Operation "Protect Boni") in 2015 to flush the militants out of the forest, it has met with only limited success. The group has become a major headache for the Kenyan security services. Experts now question whether intelligence reports were ignored early on, allowing the group to securely embed itself in the area (Daily Nation, July 20, 2017).
Attacks in Kenya
Jaysh al-Ayman has played a leading role in many of the recent major terrorist attacks in Kenya. Abdilatif Abubakar Ali, a commander with the group, is believed to have played a key role in planning and executing the 2013 Westgate Shopping Mall attack, which left 67 people dead (The Star, December 2, 2015). In June 2014, 50 heavily armed militants targeted the Mpeketoni area, killing 48 people, all non-Muslims, and killed another 29 in Hindi area, two weeks later. In June 2014, the militants descended on Lamu County, massacring nearly 100 people Daily Nation, June 16, 2014; Standard Digital, June 17, 2014).
In neighboring Pandanguo, another town in Lamu, the militants carried out a different type of operation, putting away their guns and instead, since the area is predominantly Muslim, hoarding people into a mosque and preaching to them, before looting drugs, nets and mattresses from a nearby dispensary (The Standard, July 11, 2014; The Standard, July 23, 2017). In April 2015, al-Shabaab gunmen, who security experts say were linked to the faction, stormed Garissa University, killing 148 people, mainly Christian students, in the most deadly attack in Kenya since the 1998 Nairobi U.S. embassy bombing by al-Qaeda, in which more than 200 people were killed.
More recently, the faction was linked to the kidnapping of the late Mariam El-Maawy, a top Kenyan government official who was abducted by militants along the Mokowe-Mpeketoni road. El-Maawy was rescued by the Kenyan military and taken for treatment in South Africa, but died of her wounds in hospital three months later (The Standard, September 28, 2017).
Aside from these bloody, high-profile attacks, the group has planted Improvised Explosive Devices (IEDs) along parts of the lengthy and porous Kenya-Somali border and has killed numerous civilians, policemen and soldiers.
Expanding Membership
Initially, Kenyans from the coastal region made-up the majority of Jaysh al-Ayman'. One of Jaysh al-Ayman's key commanders is Abdifatah Abubakar Abdi (a.k.a. Musa Muhajir), a Kenyan from the coast city of Mombasa (see Militant Leadership Monitor, April 4). Muhajir has been on the radar of the Kenyan security services for some time, and the police say he is one of the militants responsible for the Lamu attacks (Daily Nation, July 16, 2017; Daily Nation, March 4, 2015).
In recent years, the group has grown to include Muslim converts from some of Kenya's non-Muslim communities, as well as foreign fighters (The Standard, July 23, 2017). Among the foreign jihadists known to have joined the group was Malik Ali Jones, an American currently in jail in the United States. Another key foreign fighter is Ahmed Muller, a German citizen who uses several aliases, including Andreas Ahmad Khaled, Muller Martin Muller and Abu Nusaibah. The 42-year-old militant, who comes from Cochem, Germany, was allegedly seconded to al-Shabaab by its al-Qaeda affiliate in Pakistan in 2011 (Daily Nation, June 19, 2015; Citizen TV, June 20, 2015).
Jones and Muller were identified after the killing of a British national, Thomas Evans, during an attempted attack on an army camp in the Buare area. In that failed attack, more than 10 al-Shabaab militants were killed while score of others fled with serious injuries. The group's commander, Issa Luqman Osman (a.k.a. "Shirwa"), was also killed. Although there are indications that a new leader has since emerged, it remains unclear exactly who has replaced him (The Standard, June 17, 2015). Following the attack, the government released photographs of 38 militants believed to have taken part, including one of Muller.
Despite the efforts of the Kenyan security services, Jaysh al-Ayman continues to menace Kenyans in the Boni forest, and that threat appears set to grow more potent. In a recent al-Shabaab video, the group's spokesman Sheikh Ali Mahmoud Rage is seen speaking to foreign fighters graduating after attending a training camp in southern Somalia. In his speech, he calls on the Kenyan fighters among their ranks to become an "army" to "conquer" Somalia's neighbor.
NOTES
[1] There are several variations of the group's names, often simply alternative spellings. It is variously referred to as: Jeysh Ayman, Jaysh Ayman, Jaysh Ayman al-Shabaab, Jaysh la Imani or Jaysh Ayman Majmo Ayman.
The Jamestown Foundation kindly allows Modern Tokyo Times to publish their highly esteemed articles. Please follow and check The Jamestown Foundation website at http://www.jamestown.org
https://twitter.com/JamestownTweets The Jamestown Foundation
https://jamestown.org/program/jaysh-al-ayman-a-local-threat-in-kenya/
Photo source: Kenyan security forces in the Boni Forest (Source: The Star [Kenya]) published in the original article by The Jamestown Foundation