Returning Uighur Fighters and China's National Security Dilemma
Publication: China Brief

By: Joseph Hope
The Jamestown Foundation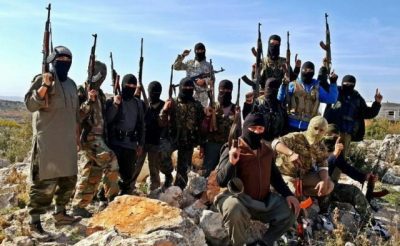 In early 2017, CCP Secretary General President Xi Jinping announced his desire to build a "Great Wall of Iron" to apparently promote security and peace in China's Xinjiang Uighur Autonomous Region (Xinhua, March 10, 2017). This is likely a continuation Beijing's focus on implementing strict security measures in the region since deadly 2009 riots in the region's capital city of Urumqi. However, it also comes at the same time that China faces a new challenge in the form of Syrian-trained Uighurs potentially returning to Xinjiang (China Brief, September 21, 2017).
Western nations also face challenges with radicalized fighters returning to their home countries, as IS is gradually eliminated and the war in Syria winds down. China's returning fighter challenge, however, is also linked with the al-Qaeda affiliated Turkestan Islamic Party (TIP) which has been active in Syria and had as many as several thousand Chinese Uighur members (South China Morning Post, December 12, 2017). The Islamist radicalization of some of these fighters while abroad has also helped build links of solidarity between them and the broader global Islamic terror community.
Pressure may be increasingly mounting on Uighurs in Syria as Idlib, the location where they are believed to be concentrated, remains the last major rebel-held area and therefore a key focus of Syrian President Bashar al-Assad, especially after government forces recently took control of the Golan Heights front in Syria's southwest (Reuters, July 19; Al Jazeera, July 2; The Diplomat, March 8, 2016). On July 18, the Syrian government agreed to release a large number of prisoners in an agreement with rebel forces in exchange for an evacuation of pro-government civilians into a government controlled zone. Idlib is within a multi-party de-escalation agreement that should be an end to conflict between rebels and government forces there. However, Syrian government forces have violated the agreement in other areas, and the evacuation may possibly precede an increased pressure campaign on rebel groups (Al Jazeera, July 19).
As Assad consolidates power, Chinese nationals fighting alongside al-Qaeda may leave the fighting and attempt to return to China. How Beijing responds to these returning fighters may dramatically alter the security situation in Xinjiang and the rest of China.
Uighurs at War
China has long accused the TIP and the East Turkestan Islamic Movement (ETIM), the two main Uighur terror groups, a highly suspect assertion prior to 2009. At the time the majority of Uighur fighters and terrorists espoused separatism instead of Islamic fundamentalism [1]. The 2009 Urumqi riots changed this by drawing the attention of al-Qaeda for the first time (Terrorism Monitor, July 12, 2013). Following this, China asserted in 2012 that Uighurs had begun to leave Xinjiang to join the fighting in Syria (Global Times, October 29, 2012). Shortly after Islamic State (IS) leader Abu Bakr al-Baghdadi's declaration of the Caliphate in 2014, IS released the first edition of their main propaganda magazine, Dabiq, in which they singled out China and several other nations as threats [2]. A wave of Uighur-language propaganda and Uighurs leaving China for Syria have helped to deepen the connection between Xinjiang and Syria.
Estimates of the number of Uighurs this connection has drawn to Syria vary. The Syrian government reportedly informed Beijing there were 5,000 as of May, 2017 (Reuters, May 11, 2017). Another Dubai-based media outlet reported the number as 10,000 to 20,000 Uighurs, mostly in Idlib province (Asia Times, May 21, 2017). A ledger recently recovered by US forces providing information on women within the Islamic State gives rare first-hand information on the question. Of 1,139 women who had joined the Islamic State, 76 reported Xinjiang as their place of origin, making Xinjiang the third most common place of origin behind Dagestan with 200, and Turkey with 124 [3]. Similarly, data on 290 IS child soldiers shows that 12 are Chinese. Four originated in Aksu (阿克苏), a city in Xinjiang, making it the seventh-most common city of origin in the data set [4]. Since the number of Uighurs in IS is believed to be much smaller than that of TIP, this would seem to support the contention that there is a large number of Chinese Uighurs in Syria.
While ETIM and TIP have traditionally espoused separatism from China, some Uighurs in Syria appear to have become indoctrinated in Islamic militarism. Some Uighurs fighting in Syria have even reportedly directly threatened to "return to Xinjiang to wage Jihad" (South China Morning Post, September 7, 2016). A key indicator of this change is the 2016 bombing of the Chinese Embassy in Bishkek, Kyrgyzstan, in which an Uighur rammed a vehicle into the gates of the embassy and detonated explosives inside. Although the attacker was a suspected member of ETIM, both the attacker and the cell that planned the attack are believed to be affiliated with Jabhat al-Nusra, al-Qaeda's Syrian branch at the time that the attack would have been planned (Xinhua, September 6, 2016). The attack came only three months after a call to action among Uighurs was made by al-Qaeda's leader, Ayman al-Zawahiri (The Diplomat, September 29, 2016).
There have been several indications that some Uighurs in Syria consider China as a target. In early 2017 an Islamic State video depicted a group of Uighurs making threats to China before ending with an Uighur fighter executing a prisoner (Al Jazeera, March 1, 2017). Another Uighur also that, "we didn't care how the fighting went or who Assad was… We just wanted to learn how to use the weapons and then go back to China (AP, December 23, 2017)." Notably, Malhama Tactical, a for-profit Jihadist military training group, also made a threat against China in early 2017 and claimed to have added Chinese nationals to its instructor ranks. Importantly, the group is known to operate in Idlib, where there may be a large Uighur population, and has trained numerous TIP fighters. While the group itself does not carry out terror attacks, it is providing training to Uighur fighters and apparently marketing itself somewhat to Uighurs in Xinjiang (Terrorism Monitor, November 27, 2017). While actual figures on fighters returning to Xinjiang are likely withheld from the media, Jacques Neriah of the Jerusalem Center for Public Affairs claims that the Chinese government has arrested around 100 returning fighters as of the end of 2017(JCPA, December 20, 2017). Moreover, the number of returning fighters intercepted at the Chinese border reportedly increased "ten-fold" in 2017 according to Ji Zhiye of the China Institute of Contemporary International Relations, however the actual number of arrests was withheld (South China Morning Post, January 8).
Domestic Security Readiness
China will likely attempt to arrest and imprison as many returnees as possible; a task made easier by PRC pressure on neighboring nations such as Kyrgyzstan, Kazakhstan and Afghanistan as well as nations on known Uighur transit routes like Thailand and Malaysia to deport Uighurs to China (Global Times, February 11; Global Times, November 21, 2017; Al Jazeera, January 8, 2017; Al Jazeera, February 19, 2015; Uyghur Human Rights Project, May 19, 2006). However, this will do little to stabilize communities in Xinjiang or to account for those who manage to return to Xinjiang without apprehension by authorities. Furthermore, ongoing harsh treatment of Uighurs may sharpen extremist groups abroad's focus on China. Stabilizing Xinjiang and neutralizing the effects of radicalization is made more difficult by the social conditions and discrimination that Uighurs face, including pervasive economic, workplace, and even interpersonal discrimination (Radio Free Asia, May 14, 2015) [5]. Other countries' experience with radicalized individuals and returning fighters suggests this may not be the most effective approach. This is ever more important as Uighur groups like ETIM and TIP are increasingly exposed to and potentially influenced by Islamic fundamentalism.
The post-2009 era in Xinjiang is a time of increasingly strict and comprehensive security measures. Policy escalation has aimed at limiting movement of Uighurs, strictly controlling their potential weapons, and removing their meeting areas where radicalization, organization and attack planning may take place. Additional measures have also had religious effects; trimming of beards, prohibiting children from observing Ramadan, and closing Mosques have all been utilized. Despite this, attacks in Xinjiang have continued to occur (China Brief, February 6, 2017; China Brief, September 21, 2017).
Authorities have also chosen to deter terror through pervasive security deployments, in which many Uighur and other local citizens are enlisted. In addition to the already ubiquitous "convenience police stations" which enforce a high level of community penetration, Xinjiang also saw a massive recruitment of informal security agents in 2016 (China Brief, March 14, 2017). Many of the more than 30,000 new hires were positioned in the convenience police stations, where they closely monitor surrounding communities. Local people used to surveil their own communities are in unique positions to notice the sudden reappearance of individuals who have been away for long periods of time, making it more likely that any returning fighters will be discovered and apprehended.
China is also known to have a large scale re-education program in Xinjiang, as well as pervasive electronic surveillance (China Brief, May 15). Re-education in many cases may not be permanent detention, and if the program is not successful in disengaging the individual from violence, they may simply re-engage upon release because of a lack of reintegration and community-based programs. Moreover, prisons around the world are known for providing fertile radicalization environments rather than deradicalizing individuals [6]. However, whether returning fighters from conflicts abroad are put in re-education programs or are permanently detained by Chinese authorities is unknown. Electronic surveillance evasion is also a skill practiced by terrorist groups in Syria and elsewhere, and Uighur returnees may take measures to avoid electronic detection in Xinjiang [7].
Conclusion
While it is known that a large number of Chinese Uighurs have travelled to Syria to fight, how many of them are still alive and will be returning to China is as of yet unknown. Many returnees may be arrested and imprisoned during their return; however there is still the potential for individuals to sneak back into Xinjiang via Central Asia. As they return, they may bring a newly Islamized narrative and motivation which will challenge the predominantly separatist ideology of traditional Uighur attacks. To be clear, China does not face a threat of thousands of fighters returning to wage an open battle. Rather, the risk of foreign fighters returning is in the potential for a small few to slip through the security cracks and re-enter their communities, or to exit detention programs without disengaging from violence. Once returned, they can become powerful force multipliers who may introduce leadership, technical and tactical knowledge, resources, and radicalization methods to the community [8].
Past measures have not fully addressed the threat, and will likely not be adequate against an evolving threat. While a high level of community penetration and the use of community members as security agents may prove effective in detecting returned fighters, it will do little to counter the religious undertones which may motivate a new face of terrorism in Xinjiang or to neutralize the influence of those who are not apprehended. Given its traditional preference for coercive measures, it is unlikely that Beijing will adopt a softer approach that promotes reintegration, community bonds, and religious education. Instead, heightened security measures may be in store for Xinjiang, as well as heightened threat levels and heightened tensions.
Joseph Hope holds an MSc from the University of Essex, where his dissertation focused on analyzing the Islamic State's magazine, Dabiq, for signals that a criminological theory may be applicable in the behavior of foreign fighters. He lives in Chengdu, Sichuan, and is preparing to begin a PhD in 2019.
Notes
[1] For more, see Zambelis, Chris. (2010). "Uighur Dissent and Militancy in China's Xinjiang Province". CTC Sentinel. 3(1). p 16-19.
[2] For more, see Dabiq. (July, 2014). Return of the Kilifa. Dabiq. Retrieved from The Clarion Project at http://www.clarionproject.org/news/islamic-state-isis-isil-propaganda-magazine-dabiq
[3] For more, see Dodwell, Brian; Milton, Daniel. (2018). "Jihadi Brides? Examining a Female Guesthouse Registry from the Islamic State's Caliphate". CTC Sentinel. 11(5). p. 16-22.
[4] For more, see Foster, Dakota; Milton, Daniel. (2018). "Children at War: Foreign Child Recruits of the Islamic State". CTC Sentinel. 11(6). p. 11-17.
[5] For more, see Zang Xiaowei. (2011). "Uyghur-Han Earnings Differentials in Urumchi". The China Journal. (65). p. 141-155.
[6] For more, see Brandon, James. (2009). "The Danger of Prison Radicalization in the West". CTC Sentinel. 2(12). p. 1-4.
[7] For more, see Brantly, Aaron; al-Ubaydi, Mohammed. (2015). "Extremist Forums Provide Digital OpSec Training". CTC Sentinel. 8(5). p. 10-13.
[8] For more, see United Nations Security Council. (2018). "The Challenge of Returning and Relocating Foreign Terrorist Fighters: Research Perspectives". UNSC Counter-Terrorism
The Jamestown Foundation kindly allows Modern Tokyo Times to publish their highly esteemed articles. Please follow and check The Jamestown Foundation website at http://www.jamestown.org
https://twitter.com/JamestownTweets The Jamestown Foundation
https://jamestown.org/program/returning-uighur-fighters-and-chinas-national-security-dilemma
Photo source: Alleged Uighur fighters for the Turkestan Islamic Party in Syria, 2017