Sunni Islamists Kill again in the United Kingdom: 7 Die in London Terrorist Attack
Nuray Lydia Oglu, Sawako Uchida, and Lee Jay Walker
Modern Tokyo Times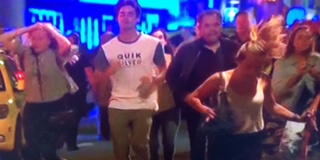 Sunni Islamist terrorists have killed at least 7 people in London, following on from the recent terrorist attack in Manchester. At the moment, information remains sketchy, but it appears once more that at least one of the three terrorists was known to security services. It may turn out that the other two were equally known, either way, knowing that at least one was known should raise serious questions. After all, similar barbaric Sunni Islamist attacks in other European nations have happened despite the terrorist assailants being known to security services.
According to the latest information, it is known that 48 people remain injured after three Sunni Islamist terrorists attacked innocent civilians and killed 7 people. The initial attack witnessed a van hitting people walking on London Bridge. Three Sunni Islamists then left the van and began stabbing people in the environs of Borough Market following on from targeting people on London Bridge.
One eyewitness told the BBC, "They were running up shouting, 'This is for Allah.' They stabbed this girl maybe 10 times, 15 times. She was going, 'Help me, help me.'"
The latest terrorist attack by Sunni Islamists brings the total to three attacks in three months in the United Kingdom (UK). In other words, the UK now resembles the pattern that happened in France and blights other nations in Europe; for example, terrorist attacks in Belgium, Germany, the Russian Federation, and Sweden.
In Manchester, 22 people were recently butchered in a bomb attack aimed at killing young people. Hence, different tactics are being used to bring death and carnage to the streets of the UK and this is being done in the name of Sunni Islamism.
Of course, nations including Afghanistan, Cameroon, Egypt, Lebanon, Libya, Iraq, Mali, Niger, Nigeria, Pakistan, Somalia, Syria, Tunisia, and other nations, have all witnessed Sunni Islamist terrorism. Indeed, for nations like Afghanistan, Egypt, Iraq, Nigeria, Pakistan, and Syria, it is a regular occurrence. Therefore, in Egypt, the indigenous Coptic Christians face the Sunni Islamist sword, while in other nations the Shia are butchered in vast numbers by Sunni Islamists. Similarly, in Iraq, the entire Yazidi population faces being enslaved, killed, or driven out from their own land by ISIS (Islamic State – IS).
It is clear that Sunni Islamism is a growing threat to several European nations based on various factors. At the same time, it rings hollow when the media spins out this being a minor fringe reality because too many nations are suffering – and untold numbers of Sunni Islamists are being monitored from Egypt to the United Kingdom. Indeed, in Saudi Arabia, all non-Muslim holy places are banned and apostates face prison or death based on Islamic Sharia law. Therefore, in some nations apartheid religious legal systems and the state apparatus are openly persecuting non-Muslims and this is followed by Gulf petrodollars spreading hatred far and wide.
http://www.bbc.com/news/uk-40146916
Modern Tokyo News is part of the Modern Tokyo Times group
http://moderntokyotimes.com Modern Tokyo Times – International News and Japan News
http://sawandjay.com Modern Tokyo Times – Fashion
https://moderntokyonews.com Modern Tokyo News – Tokyo News and International News
http://global-security-news.com Global Security News – Geopolitics and Terrorism
PLEASE JOIN ON TWITTER
https://twitter.com/MTT_News Modern Tokyo Times
PLEASE JOIN ON FACEBOOK